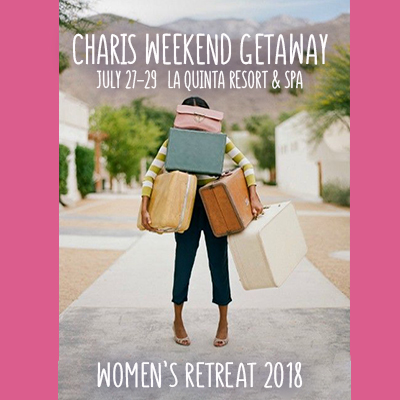 Jul 27

Friday
4:00pm

Jul 29

Sunday
12:00pm
Charis Women's Weekend Getaway
Jul 27

Friday
4:00pm

Jul 29

Sunday
12:00pm
Ladies, it's time to reserve your space for our Charis Women's Retreat 2018!
Join us July 27th through the 29th when we head to the world-renown La Quinta Resort and Spa in beautiful La Quinta, CA. You won't want to miss this spectacular Weekend Getaway! Our retreat theme this year is 'A New Thing in the Desert', taken from Isaiah 43:18-19. So come. Set aside this time to get away and allow the Lord to do 'A New Thing' in your relationship with Him.

Guest speakers for our main sessions will be Sonia Trujillo and June Hesterly. Along with great teachings and worship, you may attend practical break-out workshops taught by our Charis Women's leadership team. Last, but not least, you will have lots of fun and fellowship with ladies from all walks of life! Ladies, ages 18 and older are welcome to attend.
The costs per person for the Weekend Getaway varies dependent upon you choice of room arrangements:
Quad - $115 per person ($60 deposit) 4 ladies per room – 2 Queen Beds
Triple - $145 per person ($80 deposit) 3 ladies per room – 2 Queen Beds
Double - $195 per person ($100 deposit) 2 ladies per room – 2 Queen Beds
Single - $355 per person ( $185 deposit) - 1 lady per room – 1 King Bed
(all deposits are non-refundable and non-transferable)
Registration is open through July 8th, or until spaces are full. All deposits are non-refundable, non-transferable basis due by July 8th. Spaces will fill quickly for this amazing Weekend Getaway!
Attendee Types
$355

–

Single Occupancy

Sold Out

$195

–

Double Occupancy (2 ladies per room)

Sold Out

$145

–

Triple Occupancy (3 ladies per room, 2 queen beds)

Sold Out

$115

–

Quad Occupancy (4 ladies per room, 2 queen beds)

Sold Out