Bible College Enrollment Application
July 31st - December 31st, 2018
$25
This form is for first-time applicants to the Calvary Chapel Chino Valley Bible College. This form must be filled out and completed prior to registering for semester courses. 
There is a one time non-refundable $25 enrollment application fee due at the time of sign-up.
Students interested in pursuing a Bible College degree will need to submit a copy of the following documents to the Registrar:
1) High School diploma or GED
2) College transcripts (unofficial is acceptable)
All documents can be emailed to stephaniep@calvaryccv.org
Under His Wings
June 11th - August 27th, 2018
$10 - $15
Charis Women's Ministry will again offer Under His Wings, beginning Monday, June 11th at 7:00pm in room 206. The 12-week class each Monday is designed to support and encourage women who are being affected by husbands who are or have engaged in pornography or other forms of infidelity. This class also benefits the woman who may still struggle with pain and anger, even after the restoration and purity of their husband.
The cost is $15 ($10 for returning enrollees).
Softball League
June 30th - August 25th, 2018
$40
We welcome you to join us for our upcoming summer softball season! We will have co-ed and men's teams playing on Saturday evenings at Westwind Park in Ontario. The season begins on June 30th and runs through August. The cost is $40 per player and includes a jersey. Sign up online or at the gazebo through Sunday, June 17th. This is a non-refundable event.
Couples' Bowling Night
July 7th, 2018
$34
Join us for fun, fellowship and a night of bowling on Saturday, July 7th at 4pm. We will be bowling at Chaparral 300 Bowling Alley in Chino Hills. Cost includes 2 hours of bowling, shoe rental, pizza, soda and dessert. Dating, engaged and married couples are welcome to join us. We will be playing six to a lane. Sign-ups are open through Sunday, July 1.
Cost is $34 per couple and is non-refundable.
Chaparral 300 Bowling Alley
4191 Chino Hills Parkway
Chino Hills, CA 91709
Telephone : 909-342-7889
Vacation Bible School
July 16th - July 20th, 2018
$0
Be a part of our Vacation Bible School this year! Whether you register your child or sign-up to serve, this year's VBS will be filled with excitement as we explore the roles of the Holy Spirit in "May the Spirit be with you," a Star Wars themed week-long event.
Kids who will be in Kindergarten through 6th grade in September 2018 are invited to experience live worship, Bible studies, crafts, snacks, and more fun activities from Monday, July 16th to Friday, July 20th. Check-in will begin at 8:15AM at the Gazebo.
VBS T-Shirts are available for purchase to help support this outreach to the kids in our community!
Building Foundation Class
July 22nd - August 12th, 2018
Has your child recently given his or her heart to Jesus? Do you want to provide a firm foundation for your child's faith?
The Building Foundation Class offered by the Kids Ministry is designed for 2nd through 6th graders who recently gave their hearts to Jesus or have yet to attend one of the Building Foundation Class sessions. This is a 4-week class that teaches foundational truths about Jesus Christ and our Christian faith.
Our desire is to build up our children in their faith and to establish truth in their lives that will remain in their hearts through adulthood.
Our next class begins Sunday, July 22nd, during 2nd service in room 405. Classes will take place every Sunday through August 12th.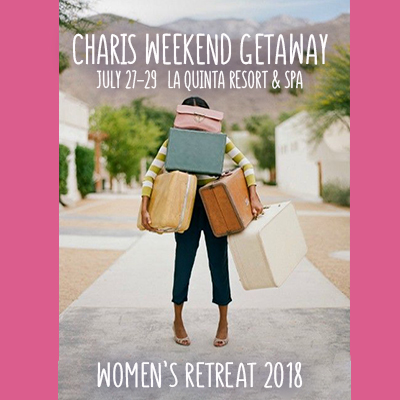 Charis Women's Weekend Getaway
July 27th - July 29th, 2018
$115 - $355
Ladies, it's time to reserve your space for our Charis Women's Retreat 2018!
Join us July 27th through the 29th when we head to the world-renown La Quinta Resort and Spa in beautiful La Quinta, CA. You won't want to miss this spectacular Weekend Getaway! Our retreat theme this year is 'A New Thing in the Desert', taken from Isaiah 43:18-19. So come. Set aside this time to get away and allow the Lord to do 'A New Thing' in your relationship with Him.

Guest speakers for our main sessions will be Sonia Trujillo and June Hesterly. Along with great teachings and worship, you may attend practical break-out workshops taught by our Charis Women's leadership team. Last, but not least, you will have lots of fun and fellowship with ladies from all walks of life! Ladies, ages 18 and older are welcome to attend.
The costs per person for the Weekend Getaway varies dependent upon you choice of room arrangements:
Quad - $115 per person ($60 deposit) 4 ladies per room – 2 Queen Beds
Triple - $145 per person ($80 deposit) 3 ladies per room – 2 Queen Beds
Double - $195 per person ($100 deposit) 2 ladies per room – 2 Queen Beds
Single - $355 per person ( $185 deposit) - 1 lady per room – 1 King Bed
(all deposits are non-refundable)
Registration is open through July 8th, or until spaces are full. All deposits are non-refundable and due by July 8th. Spaces will fill quickly for this amazing Weekend Getaway!
EPIC High School Summer Retreat - CONQUER
July 30th - August 2nd, 2018
$80 - $160
When was the last time you were tempted with something and gave in? Did you fight? The Bible tells us that no temptation has overtaken except that which is common to man, and that God is faithful to always provide a way out of the temptation (1 Cor. 10:13). This summer we invite all those who desire to confront the daily battles we encounter and learn how to CONQUER them through Christ at the EPIC High School Summer Retreat. We will be equipping ourselves with the spiritual weapons necessary to CONQUER all things opposing the truth of Christ, 2 Cor. 10:3-6.
The retreat will take place at the San Mateo Campground from Monday, July 30th to Thursday, August 2nd. The total cost to attend is $160 including a nonrefundable deposit of $80 due at the time of sign-up.
There will be a mandatory Parent Meeting on Sunday, July 22nd after 2nd service in room 304.

All attendees are required to have a 2018 CCCV Consent Waiver on file.
Space is limited so be sure to register early!
For questions, please contact Kristen Yamamoto at kristeny@calvaryccv.org or call 909-464-8255.
Kids Ministry Orientation Class
August 19th - August 22nd, 2018
It is the desire of Kids Ministry to train up servants, prepare them for the organizational setup of the ministry, and encourage them to use their gifts within the ministry through the Orientation Class.
On Sunday, August 19th during evening service in room 523 and on Wednesday, August 22nd during evening service in room 523, Kids Ministry will be offering Orientation Classes to those interested in serving in the ministry. These classes are also open to those who currently serve, but have yet to attend.
As a reminder, it is required of all Kids Ministry servants to attend one Orientation Class while serving at CCCV.
See how the gifts the Lord has given you can be utilized within Kids Ministry!
Charis Women's Ministry Summer Event - Ladies' Night Out Part 2
August 23rd, 2018
$0 - $5
If you liked or missed our 1st Summer Ladies' Night Out, you won't was to miss our Ladies' Night Out - Part 2! Grab your Girlfriends and join us for Burgers and Bible Study, on Thursday, August 23, from 5:30-8:30pm.

You'll dine and fellowship on the patio and courtyards, while enjoying Gourmet Burgers from So. Cal's famous TK Burger's Food Truck. You will end your 'Night Out' with worship and a powerful teaching from Hebrews 4:12 impressing upon you the power of God's Word, and its importance in your life.
You will also have an opportunity to register for our 2018 Small Group Bible Studies.
Below is a snapshot of the evening that you and your friends will not want to miss:
Date - Thursday, August 23, 2018
Time - 5:30-7:00pm - Gourmet Burger Food Truck and Festivities (arrive anytime during this time frame)
7:30-8:30pm - Worship and Teaching
Ticket Cost and Purchase Information -

$10 entrance, including meal
$5 entrance to 7:30pm teaching without meal
Choice of 4 meals listed below, all served with fries and a drink:
#1 Cheese Burger
#2 Hamburger
#3 Veggie Burger
#4 Chicken Sandwich
MOPS & More Fall 2018 Registration
September 6th - January 24th, 2019
$25 - $60
Join us as at Calvary Chapel Chino Valley for MOPS & More! MOPS & More is open to mom's with children pregnancy through 6th grade. Our theme this is year is "Free Indeed." MOPS will be held bi-weekly on Thursday mornings, September 6th - January 24th (Spring Semester runs February 7 - May 16th). Tuition is $60 per semester, and $15 for childcare per family, and includes MOPS Kids program, crafts, guest speakers, MOPS membership, and much more. Contact Carin at 909-464-8255 x263 or mops@calvaryccv.org if you have any questions. Spaces are limited!
Men's Retreat
October 19th - October 21st, 2018
$220
All payments towards retreat registration are non-refundable.
We are excited to announce registration for our 2018 Men's Retreat is open! This year's retreat will be in the beautiful mountains of Twin Peaks on October 19th through October 21st.
This year, rooming will be reduced to just four men per room for the outstanding price of $220. You have the option of paying the full amount of $220, or paying the deposit of $120 and then the balance of $100 by Sunday, October 14.
Registration includes lodging for two nights, five meals, workshops, sports tournaments, a retreat booklet and name badge lanyard, along with five teachings by dynamic guest speakers and Pastor David Rosales.
The cost of Men's Retreat can easily be broken down into a one-night stay at a hotel, seven dates at a restaurant, or going through a fast food drive-thru twenty times. We encourage you to see this opportunity as a valuable investment in your relationship with the Lord. If you are attending retreat with the desire to grow closer to God, you will be blessed!
Hawaii Getaway - Deposit
November 15th - November 20th, 2018
$515
Join Pastor David for our 2018 Hawaii Getaway, November 15 – 20 at the Grand Wailea Resort on the Island of Maui. The cost for this trip is $3495 (for two), and includes round trip coach airfare from LAX, five nights hotel accommodations at the Grand Wailea (includes hotel tax, valet parking & resort fee), and compact car rental.
A deposit of $500 is required per room to book space, made payable to One World Travel. Please note that online registration incurs a $15 registration fee.