Bible College Enrollment Application
July 31st - December 31st, 2018
$25
This form is for first-time applicants to the Calvary Chapel Chino Valley Bible College. This form must be filled out and completed prior to registering for semester courses. 
There is a one time non-refundable $25 enrollment application fee due at the time of sign-up.
Students interested in pursuing a Bible College degree will need to submit a copy of the following documents to the Registrar:
1) High School diploma or GED
2) College transcripts (unofficial is acceptable)
All documents can be emailed to stephaniep@calvaryccv.org
MOPS Spring 2018
February 8th - May 24th, 2018
$0
Join us as at Calvary Chapel Chino Valley for MOPS! Our theme this is year is "Free Indeed." MOPS will be held bi-weekly on Thursday mornings, February 8th - May 24th. Tuition is $60 per semester, and $15 for childcare per family, and includes MOPS Kids program, crafts, guest speakers, MOPS membership, and much more. Contact Carin at 909-464-8255 x263 or mops@calvaryccv.org if you have any questions. Spaces are limited!
Couples' Retreat
May 4th - May 6th, 2018
$220 - $435
Our Couples' Retreat is sold out but you are able to pay your balance due of $220 online.
The retreat is being held at the Hyatt Regency Newport Beach from May 4-6.
You may check in to the hotel, and at our retreat registration table, at 4:00pm or after. Worship begins at 8pm in the Plaza Ballroom. Check-out on Sunday is at noon.
Meals are not included. The Lobby Lounge serves coffee, tea, smoothies and pastries from 6am-11:30am, and other food and drink items until midnight. Shor American Seafood Grill is an onsite restaurant that serves breakfast, lunch and dinner.
Couples' Retreat Saturday-Only Day Pass
May 5th, 2018
$65
We are now taking sign-ups for Saturday-Only passes to our Couples' Retreat held at the Hyatt Regency Newport Beach on May 5th. It is open to dating, engaged and married couples. The non-refundable cost is $65 per couple for three teaching sessions, a workshop, parking and retreat materials.
Brenen Beeler from Regenerate Church, Lance Cook from Calvary La Habra, Jeff Johnson from Calvary Chapel Downey and Pastor David Rosales will be teaching at the retreat.
Meals are not included. The Lobby Lounge serves coffee, tea, smoothies and pastries from 6:00am-11:30am, and other food and drink items until midnight. Shor American Seafood Grill is an onsite restaurant that serves breakfast, lunch and dinner. And Fashion Island is a few minutes away from the hotel.
Please plan to arrive by 8:30am in order to check in at the registration table at the Plaza Ballroom. Park in the self-parking lot; your ticket can be validated in the ballroom. There will be free time from 12-7pm with an evening teaching at 7pm back in the ballroom, until around 9pm.
Single Mom's Mother's Day Dinner
May 11th, 2018
$5
All single moms and their children (infant to 15 years) are invited to attend our annual Mother's Day Dinner. Tickets are just $5 per family. Mom and her child(ren) will enjoy dinner and devotions.
Check-in for your children will be from 6:30pm to 6:55pm on the patio. Dinner for the moms will be held in the Banquet Hall at 7pm. After dinner, you will enjoy a time of worship, and a teaching from our guest speaker, Michelle Sullivan, based on Psalm 119:11. Your children, through age 14, will enjoy their own evening of fun and a pizza dinner on the patio.
Dinner Menu for Moms
Springtime Mixed Salad with Champagne Vinaigrette
Skillet Chicken with garlic herb butter sauce, served with new potatoes, and sautéed green beans, and dinner rolls
Lemon curd parfait with fresh berries
Raspberry Lemonade, and Coffee
Children's Menu
Pizza, Cookie, and Lemonade
We look forward to seeing you!
Charis Women's Ministry Summer Event - Ladies' Night Out
May 17th, 2018
$5 - $10
Join us for our first Ladies' Night Out, entitled 'Seasoned to Perfection', on Thursday, May 17th, from 5:30-8:30pm. You will enjoy an old-fashioned outdoor Summer Barbecue along with fellowship on the patio and courtyard. After the barbecue, we will gather in the Chapel for a teaching by conference speaker and award-winning author of the His Princess Book Series, Sheri Rose Shepherd.
Below is a snapshot of the evening that you and your friends will not want to miss:
Event - Charis Ladies' Night Out
Title - Seasoned to Perfection (Matthew 5:13)
Date - Thursday, May 17, 2018
Time - 5:30-7:00pm - Outdoor Barbecue and Fellowship (arrive anytime during this time frame)
7:30-8:30pm - Worship and Guest Speaker, Sheri Rose Shepherd
Ticket Cost and Purchase Information -
$5 - entrance only, dinner not included
$10 - entrance and dinner
The delicious dinner will be prepared and served on our campus by Magilla's BBQ. Your meal choices are listed below:
#1 BBQ Brisket
#2 Pulled BBQ Chicken
#3 Pulled BBQ Pork
All dinner choices served on a Brioche Bun, with or without coleslaw.
Choice of two of the following three side dishes - Pit beans (with brisket cooked inside), Potato Salad, or Green Salad. You will choose your side dishes when you are served.
Bottled Water
Men's Conference
June 2nd, 2018
$0
Calvary Chapel Chino Valley will be hosting its annual Men's Conference on Saturday, June 2nd from 8:00am to 12:30pm. We are excited to have guest speakers Raul Ries from Calvary Chapel Golden Springs, Tony Clark from Calvary Chapel Newport News, and Don McClure from Calvary Way along with our very own Pastor David Rosales.
Before the Men's Conference begins, men will be gathering on our church grounds to enjoy delicious breakfast burritos, coffee, and orange juice. When purchasing your ticket, please select whether you would like a bacon or sausage breakfast burrito in the "Add-On" section of the registration. Tickets purchased online will be available for pick up near the main sanctuary, beginning at 7:30am, the morning of the Men's Conference.
Reaching Muslims for Christ Seminar (early online registration)
June 9th, 2018
$20
With 198 mosques and counting, California is reported to have the highest number of mosques in any state in the U.S. As we see the need to communicate the gospel more effectively with followers of Islam, we invite you to attend a one-day seminar taught by Apologist, Dr. Jay Smith, who will instruct us on how to effectively share the love of Christ with Muslims.
This is a ticketed event. Each $20 ticket includes lunch and materials for the day.
Kids Ministry Orientation Class
June 10th - June 13th, 2018
It is the desire of Kids Ministry to train up servants, prepare them for the organizational setup of the ministry, and encourage them to use their gifts within the ministry through the Orientation Class.
On Sunday, June 10th during second service in room 405 and on Wednesday, June 13th during evening service in room 523, Kids Ministry will be offering Orientation Classes to those interested in serving in the ministry. These classes are also open to those who currently serve, but have yet to attend.
As a reminder, it is required of all Kids Ministry servants to attend one Orientation Class while serving at CCCV.
See how the gifts the Lord has given you can be utilized within Kids Ministry!
2018 Kids Camp
June 25th - June 29th, 2018
$290
This summer our Kids Camp will be heading to Green Valley Lake Christian Camp! The dates of this event will run from Monday, June 25th through Friday, June 29th.
Children and camp counselors are blessed as they enjoy the beautiful outdoors and grow in their relationship with the Lord. Activities for their enjoyment include various crafts, a giant two-person swing, hiking, interactive lake activities, recreation hall fun, swimming, and zip lining. Kids will participate in daily devotions, and camp counselors will use the camp curriculum to teach morning and afternoon Bible studies. Each evening, campers and counselors will enjoy a time of worship and a special evening program in the chapel.
Camp is a time to build relationships, enjoy God's beautiful creation, learn of Him and His wonder, but most importantly, to point the children to Jesus and His saving love. It is a time in which we watch our Lord change lives right before our eyes. There is no influence of the media – nothing to distract us from our purpose of seeking Him who created us. It is a time in which the Spirit moves mightily by bringing hope to the hopeless and peace and joy that surpasses all understanding.
Camp is designed for kids who will be in 4th, 5th, or 6th grade in September 2018. Kids will need to be dropped off at the Chapel at CCCV on Monday, June 25th at 7:30 AM and will return on Friday, June 29th around 3:00 PM.
The total cost per camper is $300 but is currently being reviewed after funds were raised at our Dickey's Barbecue Pit Fundraiser. A non-refundable deposit of $150 due at time of sign-up.
Please only pay the deposit of $150 until the final total is decided.
Take a moment to watch a video of Kids Camp 2017 to get a glimpse of what camp can mean to your kids.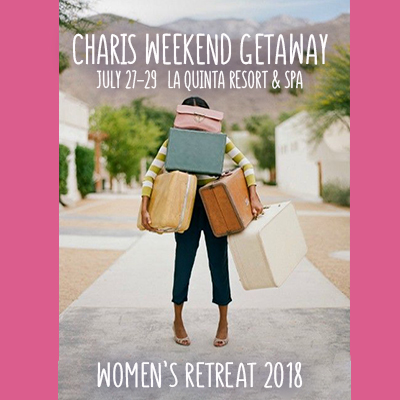 Charis Ladies' Weekend Getaway
July 27th - July 29th, 2018
$115 - $355
Ladies, it's time to reserve your space for our Charis Women's Retreat 2018!
Join us July 27th through the 29th when we head to the world-renown La Quinta Resort and Spa in beautiful La Quinta, CA. You won't want to miss this spectacular Weekend Getaway! Our retreat theme this year is 'A New Thing in the Desert', taken from Isaiah 43:18-19. So come. Set aside this time to get away and allow the Lord to do 'A New Thing' in your relationship with Him.

Guest speakers for our main sessions will be Sonia Trujillo and June Hesterly. Along with great teachings and worship, you may attend practical break-out workshops taught by our Charis Women's leadership team. Last, but not least, you will have lots of fun and fellowship with ladies from all walks of life! Ladies, ages 18 and older are welcome to attend.
The costs per person for the Weekend Getaway varies dependent upon you choice of room arrangements:
Quad - $115 per person ($60 deposit) 4 ladies per room – 2 Queen Beds
Triple - $145 per person ($80 deposit) 3 ladies per room – 2 Queen Beds
Double - $195 per person ($100 deposit) 2 ladies per room – 2 Queen Beds
Single - $355 per person ( $185 deposit) - 1 lady per room – 1 King Bed
(all deposits are non-refundable)
Registration is open through July 8th, or until spaces are full. All deposits are non-refundable and due by July 8th. Spaces will fill quickly for this amazing Weekend Getaway!
Men's Retreat Registration
October 19th - October 21st, 2018
$220
All payments towards retreat registration are non-refundable.
We are excited to announce registration for our 2018 Men's Retreat is open! This year's retreat will be in the beautiful mountains of Twin Peaks on October 19th through October 21st.
This year, rooming will be reduced to just four men per room for the outstanding price of $220. You have the option of paying the full amount of $220, or paying the deposit of $120 and then the balance of $100 by Sunday, October 14.
Registration includes lodging for two nights, five meals, workshops, sports tournaments, a retreat booklet and name badge lanyard, along with five teachings by dynamic guest speakers and Pastor David Rosales.
The cost of Men's Retreat can easily be broken down into a one-night stay at a hotel, seven dates at a restaurant, or going through a fast food drive-thru twenty times. We encourage you to see this opportunity as a valuable investment in your relationship with the Lord. If you are attending retreat with the desire to grow closer to God, you will be blessed!
Hawaii Getaway - Deposit
November 15th - November 20th, 2018
$515
Join Pastor David for our 2018 Hawaii Getaway, November 15 – 20 at the Grand Wailea Resort on the Island of Maui. The cost for this trip is $3495 (for two), and includes round trip coach airfare from LAX, five nights hotel accommodations at the Grand Wailea (includes hotel tax, valet parking & resort fee), and compact car rental.
A deposit of $500 is required per room to book space, made payable to One World Travel. Please note that online registration incurs a $15 registration fee.