Bible College Enrollment Application
December 29th - December 31st, 2020
$25
This form is for first-time applicants to the Calvary Chapel Chino Valley Bible College. This form must be filled out and completed prior to registering for semester courses. 
There is a one time non-refundable $25 enrollment application fee due at the time of sign-up.
Students interested in pursuing a Bible College degree will need to submit a copy of the following documents to the Registrar:
1) High School diploma or GED
2) College transcripts (unofficial is acceptable)
All documents can be emailed to stephaniep@calvaryccv.org
Under His Wings
June 11th - August 27th, 2018
$10 - $15
Charis Women's Ministry will again offer Under His Wings, beginning Monday, June 11th at 7:00pm in room 206. The 12-week class each Monday is designed to support and encourage women who are being affected by husbands who are or have engaged in pornography or other forms of infidelity. This class also benefits the woman who may still struggle with pain and anger, even after the restoration and purity of their husband.
The cost is $15 ($10 for returning enrollees).
Fall 2018 Bible College Class Registration - AUDIT CLASSES
July 9th - September 2nd, 2018
$25
**Audit courses are for students who desire to take classes for personal enrichment, and are NOT working towards earning a Bible College degree.
Prior to registering for classes all students must first complete the CCCV Bible College Enrollment Application form.

In addition to tuition, there is also a $25.00 class registration fee per semester. 
Fall 2018 Bible College Payment Plan & Contract
July 9th - September 2nd, 2018
$100
Students registering for 4 or more class units are eligible for the payment plan ONLY.
All students must submit a signed Tuition Contract to the Registrar prior to the first day of classes (included in this electronic form's attachments).
Required down payment to activate plan is $100.00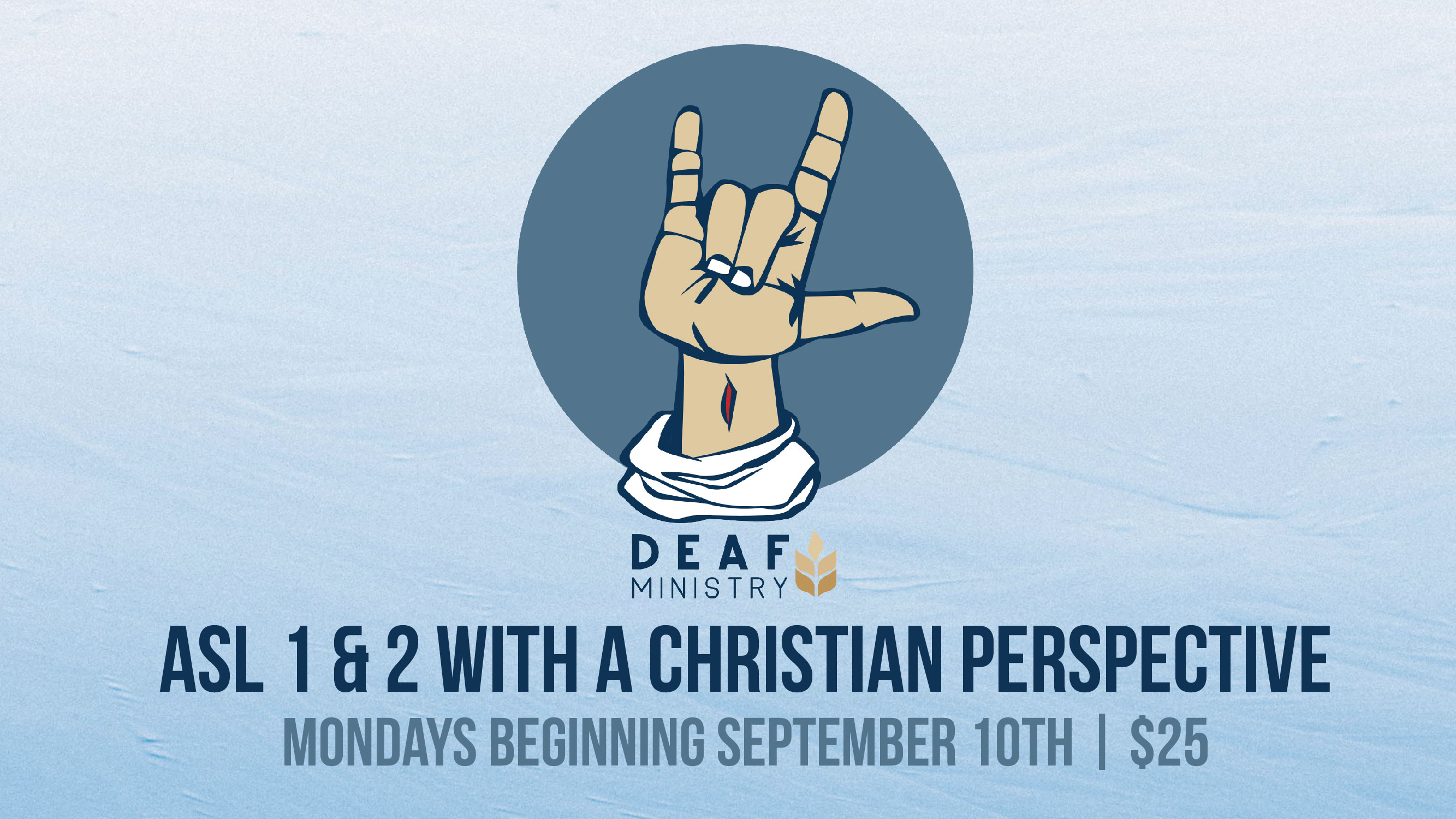 ASL 1 & 2 Classes
August 5th - September 9th, 2018
$25
The Deaf Ministry will be hosting an ASL 1 & 2 class with a Christian Perspective for those who desire to learn how to communicate the Gospel message to the deaf community. Participants will be learning a new language, culture, and how to worship in sign.
ASL 2 will be available for those who have already taken ASL 1 or have ASL experience. ASL 2 will focus on continued vocabulary training, Deaf culture, and a series of other topics. The cost is $25 and includes all class materials. The classes will be held in 521 & 522. Sign-ups are taking place through Sunday, September 9th.
Kids Ministry Orientation Class
August 19th - August 22nd, 2018
It is the desire of Kids Ministry to train up servants, prepare them for the organizational setup of the ministry, and encourage them to use their gifts within the ministry through the Orientation Class.
On Sunday, August 19th during evening service in room 523 and on Wednesday, August 22nd during evening service in room 523, Kids Ministry will be offering Orientation Classes to those interested in serving in the ministry. These classes are also open to those who currently serve, but have yet to attend.
As a reminder, it is required of all Kids Ministry servants to attend one Orientation Class while serving at CCCV.
See how the gifts the Lord has given you can be utilized within Kids Ministry!
Charis Women's Ministry Summer Event - Ladies' Night Out Part 2
August 23rd, 2018
$0 - $5
If you liked or missed our 1st Summer Ladies' Night Out, you won't was to miss our Ladies' Night Out - Part 2! Grab your Girlfriends and join us for Burgers and Bible Study, on Thursday, August 23, from 5:30-8:30pm.

You'll dine and fellowship on the patio and courtyards, while enjoying Gourmet Burgers from So. Cal's famous TK Burger's Food Truck. You will end your 'Night Out' with worship and a powerful teaching from Hebrews 4:12 impressing upon you the power of God's Word, and its importance in your life.
You will also have an opportunity to register for our 2018 Small Group Bible Studies.
Below is a snapshot of the evening that you and your friends will not want to miss:
Date - Thursday, August 23, 2018
Time - 5:30-7:00pm - Gourmet Burger Food Truck and Festivities (arrive anytime during this time frame)
7:30-8:30pm - Worship and Teaching
Ticket Cost and Purchase Information -

$10 entrance, including meal
$5 entrance to 7:30pm teaching without meal
Choice of 4 meals listed below, all served with fries and a drink:
#1 Cheese Burger
#2 Hamburger
#3 Veggie Burger
#4 Chicken Sandwich
Route 456 Apologetics Forum
August 26th, 2018
1 Peter 3:15 – "But sanctify the Lord God in your hearts, and always be ready to give a defense to everyone who asks you a reason for the hope that is in you, with meekness and fear."
Kids in 4th through 6th grad are invited to join us for our 456 Apologetics Forum on Saturday, August 25th from 9 am to 12 noon. Our goal is to equip our kids to understand their faith and the Bible; to be able to defend their faith with the same resources that the world uses to attack it.
We will spend the morning preparing our children to defend their faith through the study of God's Word and other resources, so that when challenged they will be able to share why they have placed their faith in Jesus.
Sign-up your kids for this no cost event to prepare them to defend their faith again Islam and Buddhism through the study of God's Word.
Beginning Guitar Classes
September 5th - December 5th, 2018
$45
Our Beginning Guitar Classes will be taking place during a new day and time!
Are you interested in serving in Kids Worship and have a desire to learn how to play the guitar? Do you have a son or daughter that is 9 years old or older and may be interested?
We will be offering Beginning Guitar Classes beginning Wednesday, September 5th for those interested in serving in Kids Worship. This class takes place every Wednesday from 5:30 to 6:30 PM for 10 weeks in the Banquet Hall.
The cost is $45 and is due at time of sign-up, class fees are non-refundable. Each student must provide his/her own guitar for the class.
Here are a few frequently asked questions. If you have any other questions please come by the Kids Ministry Office to speak with Bob Mitchell, the class instructor.
Q: Will I receive a call?
A: No, show up on time the first day of class.
Q: Is this class just for kids?
A: No, adults who are interested in serving in Kids Worship are also encouraged to attend.
Q: My child is not 9 yet, can they still sign up?
A: No, they must be at least 9 years old. This class will be made available in the future.
Q: Do I need to bring a guitar or is one provided?
A: You will need to provide your own guitar.
Q: What if we do not have a guitar? Where should we purchase one?
A: Large stores often have better prices, but are sometimes less helpful than a smaller, local store. You can also purchase online from stores like Musician's Friend or Sweetwater. We do not recommend buying from Target, Wal-mart, Costco, etc.
Q: Which brands of guitars do you recommend?
A: Stay with name brands: Yamaha, Takamine, Ibanez, Epiphone, Fender, or Mitchell. We recommend purchasing a new instrument rather than used. Used guitars many have defects.
Q: How much should I spend?
A: Buying an inexpensive guitar can hinder your child's ability to learn and progress. It may not tune properly, it may be harder to play, and the child may even decide playing guitar is too hard and want to quit. A good price range is between $100-$150. We do not recommend purchasing a guitar for less than $80 or more than $250.
Q: What style of Guitar should I purchase?
A: We do not recommend electric guitars. Steel string guitars are preferred. Nylon string guitars are easier to push down the strings, but sometimes the neck is wider. The guitar should fit the child. If they are teenagers, full size is recommended. If the child is between 9-11 years old, we recommend finding one that their arms can reach around.
Q: What if my child can already play several songs?
A: This is a beginner class with the goal of learning 5-6 songs and 10-12 chords. We are preparing the kids for serving in worship. That aspect might be helpful to them, however, they may get bored and want to quit.
IMPORTANT FOR YOUR CHILD TO SUCCEED: You will need a guitar that fits your child comfortably and is easy to push down the strings. For younger children, they may find nylon strings easier, but make sure it is a child's size nylon string guitar and not a full-size guitar.
MOPS & More Fall 2018 Registration
September 6th - January 24th, 2019
$25 - $60
Join us as at Calvary Chapel Chino Valley for MOPS & More! MOPS & More is open to mom's with children pregnancy through 6th grade. Our theme this is year is "Free Indeed." MOPS will be held bi-weekly on Thursday mornings, September 6th - January 24th (Spring Semester runs February 7 - May 16th). Tuition is $60 per semester, and $15 for childcare per family, and includes MOPS Kids program, crafts, guest speakers, MOPS membership, and much more. Contact Carin at 909-464-8255 x263 or mops@calvaryccv.org if you have any questions. Spaces are limited!
Couples' Night Under the Stars Dinner
September 7th, 2018
$50
Couples, we invite you to join us for a Couples' Night Under the Stars Dinner on Friday, September 7th at 7pm (seating begins at 6:45pm). We will spend the evening with other couples enjoying a time of worship, a teaching by Garid Beeler from Vision City Church, a catered tri-tip and chicken meal, and fellowship in our courtyard. Open to dating, engaged and married couples. The cost is $50 per couple. Childcare is not provided and this is a non-refundable event. Sign-ups end on Sunday, September 2nd.
California Cookout Catered Menu:
Santa Maria-Mesquite Grilled Tri-tip
Marinated Chicken with Signature BBQ Sauce
Penne Pasta Alfredo
Seasoned Garlic Butter Green Beans
Caesar Salad
Fresh Baked Rolls and Butter
Fruit Cobbler and Vanilla Bean Ice Cream
Mango Iced Tea, Lemonade and Water
Fellowship Bowling Night
September 8th, 2018
$16
Join us for fun, fellowship and a night of bowling on Saturday, September 8th. We will be bowling at the recently renovated Bowlium Lanes in Montclair. Please arrive at 3:30pm for devotions and shoe rental. Bowling will begin at 4pm sharp. Cost includes 2 hours of bowling, shoe rental, pizza, soda and dessert. All ages are welcome.
We will be playing six to a lane. You are welcome to sign up one person to play or many, and you may request to play with family and friends. Sign-ups are open through Sunday, September 2nd or until spaces are filled. Cost is $16 per person and is non-refundable.
Bowlium Lanes
4666 Holt Blvd.
Montclair, CA 91763
Telephone: 909-626-3528
AWANA 2018-2019
September 9th - June 16th, 2019
$50
On Sunday, September 9th, CCCV Kids Ministry will begin the 2018-2019 school year of the AWANA® program during Sunday evening services. The AWANA® program will be open to kids in Kindergarten through 6th grade and will take place in the 500 bldg. from 5:00 to 7:00 PM.
"Kids represent the greatest opportunity to make a long-term impact on our world for Christ. AWANA® establishes welcoming, supportive environments where kids, from every background and cultural setting, learn how a personal relationship with Christ affects their everyday lives…reach[ing] kids with the gospel and develop[ing] long-term disciples."
The cost per child, per school year is $50. One school year of AWANA® fun includes: workbooks, apparel, awards, and certificates.
For additional information about AWANA® visit the Kids Ministry website.
Flag Football 2018 Season (Men)
September 29th - November 17th, 2018
$60
Join us for our fall men's flag football season at Ayala Park in Chino. This league is for all levels of playing experience as we enjoy fellowship together. We will play on Saturday nights beginning September 29th and our last game is on November 17th. The cost is $60 per player and includes a CCCV shirt. Open to players 15 years and up. Registration ends on Sunday, September 16th.
Men's Retreat
October 19th - October 21st, 2018
$220
All payments towards retreat registration are non-refundable.
This year's retreat will be in the beautiful mountains of Twin Peaks on October 19th through October 21st. The theme of the retreat is, "Made Strong," taken from Ephesians 6:10. Joining Pastor David, are guest speakers Larry Powers, Bill Paige, and Brenen Beeler.
This year, rooming has been reduced to just four men per room for the price of $220. You have the option of paying the full amount of $220, or paying the deposit of $120 and then the balance of $100 by Sunday, October 14, 2018.
Registration includes lodging for two nights, five meals, sports tournaments, a retreat booklet, name badge lanyard, powerful teachings, and practical workshops.
We encourage you to see this opportunity as a valuable investment in your relationship with the Lord. If you are attending retreat with the desire to grow closer to God, you will be blessed!
Hawaii Getaway - Deposit
November 15th - November 20th, 2018
$515
Join Pastor David for our 2018 Hawaii Getaway, November 15 – 20 at the Grand Wailea Resort on the Island of Maui. The cost for this trip is $3495 (for two), and includes round trip coach airfare from LAX, five nights hotel accommodations at the Grand Wailea (includes hotel tax, valet parking & resort fee), and compact car rental.
A deposit of $500 is required per room to book space, made payable to One World Travel. Please note that online registration incurs a $15 registration fee.